bluegirl knits is my knitwear design company and this blahg will feature a lot of what is up with bluegirl and me as a designer, but it will also share the other stuff I knit and some snippets here and there. And with that said,
on to the afghan...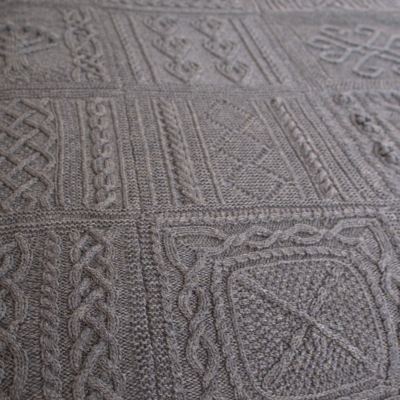 Pattern: The Great American Aran Afghan from Knitters
Yarn: 16 skeins of Cascade 220 Heathers (100% Peruvian Wool) (220 yds/100g) #2446 Bronzed Green Heather
Needles: US 5 (3.75mm), 6 (4.0mm), 7 (4.5mm), 8 (5.0mm)
This afghan marks the birth of a friendship. My friendship with
Sarah
, owner of my now LYS and employer,
Knot Another Hat
. My mancake (husband) and I moved to the Columbia River Gorge in Oregon sometime in 2006. I was on a career break, so I had lots of time on my hands to sit and knit at the shop and get to know Sarah. We hit it off right away and I knew that we were going to be great friends.
I decided in January of 2007 to take an 18-month Afghan class from Sarah, which turned out to be more like a 30-month class with all the breaks we took. For example, Sarah decided to have a baby, so we had to take a few months off for that. And then we had to take the holiday season off and then of course there is the summer.....and.....and....and....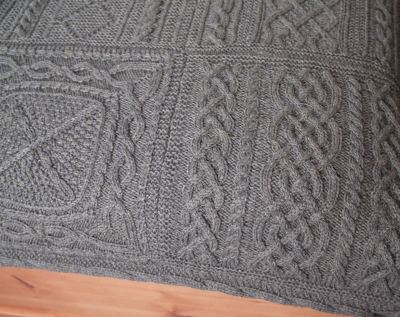 The class began with 9 people and by the last class, we had lost many. Three of us (including Sarah) actually got our squares put together and blocked and ready for the border. Every time we would see each other, we would say, "hey, let's get together to motivate on that 18' of border". We did not meet, but last week I got a big ole bee in my bonnet!
I started knitting the most monotonous 18' of cabled border in my life! I finished the border in 4 nights and attached it to the blanket on the 5th and was blocking it the next day. I was possessed, actually driven by the thought of finishing my afghan before the rest and not even mentioning it. Sneaky- yes. Devious-yes. Done with a big afghan-yes. Still friends with Sarah-yes.
And that is the story of my afghan.
Author: bluegirl - Date: 27 Aug 2009 10:35 - Tags: recreational knitting
Visits: 4927 - Comments: 8