The first new pattern,
Rainy Day Socks
must be accompanied by a confession of sorts. I do not love to knit socks. Wait, what was that? I repeat I do not love to knit socks. With that said, I love to wear hand knit socks and I don't mind terribly knitting them in sport weight, hence the creation of the Rainy Day Socks. I really like the weight of these socks here in the Northwest, when it starts to rain and I need my feet to be happy and cozy.
I also love these socks, because they take just 2 skeins of Debbie Bliss Baby Cashmerino and I can abuse them in the washing machine and have abused them in the dryer without a disaster! This is good news, because I have "accidentally" felted several pairs of mancake's socks that his mother made for him. She is an amazing sock knitter and can just whip socks up in no time and I help her by creating more demand by felting them soon after they are finished! Luckily, the socks do not go to waste, because apparently, felted mancake socks fit me perfectly! I do not felt mancake's sock on purpose. I repeat I do not felt mancake's socks on purpose.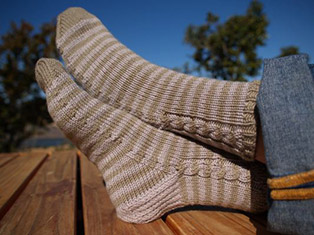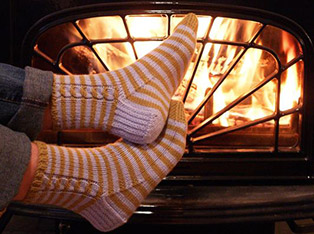 Pattern: Rainy Day Socks
Yarn: Debbie Bliss Baby Cashmerino, 2 skeins
Small Shown in #204 Aquamarine (MC) & #503 Pea (CC)
Large Shown in #9 Med Grey (MC) & #19 Moss (CC)
Needles: US 3 (3.25mm)
Now for a special surprise, my friend
Sarah
and I own a Knitting Events Company together, called
purlaway
and this weekend we are hosting a workshop with
Terri Shea, the Author of Selbuvotter
. We will be learning all about how to knit the most beautiful mittens from her book. I am really looking forward to this as we have been planning it for over a year.
Several months ago, I decided that I should create a special mitten in our purlaway colors (green, orange and brown) to give to the participants of the event in our swag bags. We always have a gift bag for everyone that attends full of knitting goodies and I thought a mitten pattern would be fun. Of course, in classic form, I did not start the pattern several months ago when I had the idea. Nope, I decided to wait and start working on it during a very stressful tax deadline! MMMMM, math, I love math! Thank goodness for great tech editing and gracious test knitters!
The mittens are done, the patterns printed and I can take a deep breath and enjoy the weekend.
Here are the
purlaway Mittens
!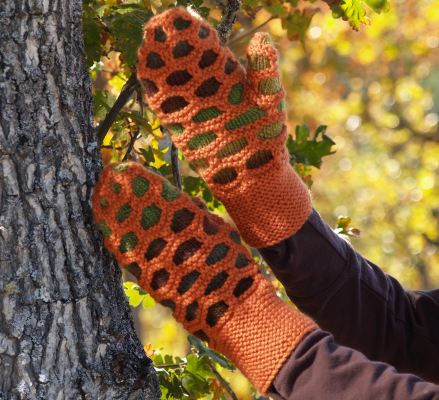 Pattern: purlaway Mittens
Yarn: Cascade Cash Vero, 2 sks #006 Orange
Crystal Palace Mochi Plus, 1 sk #554 Fern Rainbow
Needle: US Size 6 (4.0mm)
Here they are in the men's size.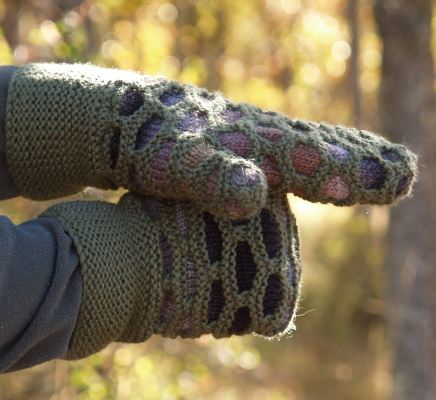 Pattern: purlaway Mittens
Yarn: Cascade Cash Vero, 2 sks #032 Dark Olive
Crystal Palace Mochi Plus, 2 sks #554 Feldspar
Needle: US Size 6 (4.0mm)
I am really excited about how these mittens turned out and hope that everyone at the workshop enjoys their pattern.
Off to the workshop.
Author: bluegirl - Date: 09 Oct 2009 11:27 - Tags: bluegirl knits designs
Visits: 1982 - No Comments