I have a new published design out with Classic Elite for fall and here it is!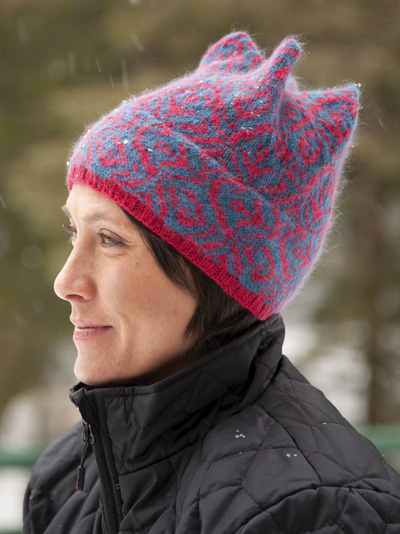 Pattern: Classic Elite Yarns, #9152 Snow Angels, Winter Rose
Yarn: Classic Elite Yarns Fresco, 1 sk each #5349 Blue Teal #5353 Strawberry
Needles: US 2.5 & 3 (3.00 mm & 3.25 mm)

Here is some more detail of the colorwork. I had so much fun making this hat. M calls it the tooth! Thank you mancake.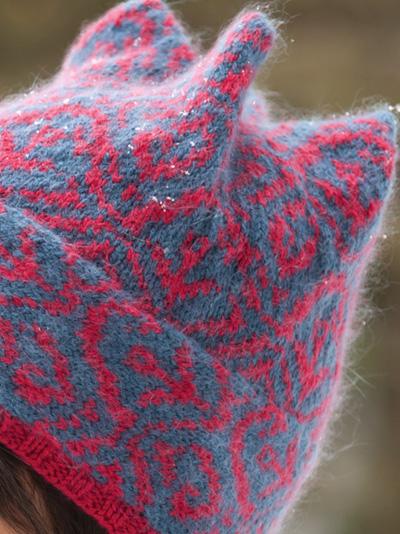 Finally, I have something to share that is finished. This is one of my projects that was languishing, but I did not show because it was ready to be blocked. I am in love with this and I think it will cross over nicely to the fall season as well, with a nice long sleeve shirt underneath. I love the blend of the alpaca and the linen in this yarn. It was one of those yarns that just surprised me when I started knitting with it. It is really great in the hand.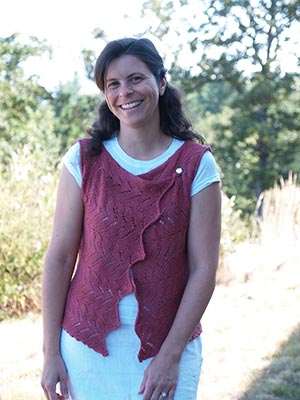 Pattern: Classic Elite Yarns,
#9111 Farmer's Market
,
Sideways Lace Vest by Julia Trice
Yarn: Classic Elite Yarns Soft Linen, 4 sks #2225 Smokey Rose
Needles: US 3 & 4 (3.25 mm & 3.5 mm)

More snippets to follow soon from the ebook. I am getting so excited for the October 1st debut!

Author: bluegirl - Date: 07 Sep 2011 13:40 - Tags: published designs,recreational knitting
Visits: 1882 - No Comments