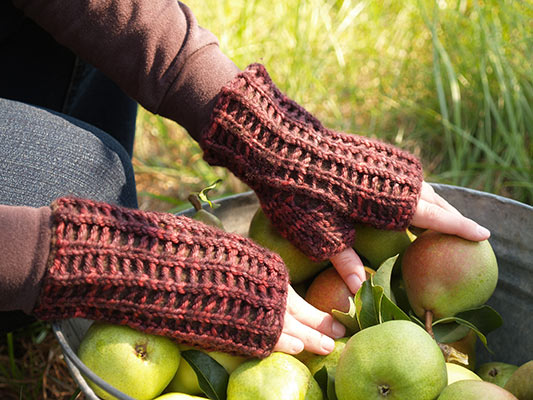 Pattern:
Gathering Mitts
Yarn: 1 sk Malabrigo Worsted #512 Chestnut & 1 sk & Malabrigo Rios #869 Cumparcita
Needles: US 10 1/2 (6.5 mm)
Once the idea of these mitts was in my head, I could not shake it and the inspiration for them was generated by the idea of being able to combine Malabrigo Worsted and Rios together to create two completely different fabrics in one mitt. The inside mitt is knit with worsted and then the lace overlay is knit right onto the inner mitt in Rios. The two mitts are joined together and then thrown in the wash! The inner mitts felts and the outer mitt stays the same, because it is superwash. You can see the felted mitt color peeking through the outer lace mitt, so you can just imagine what fun these mitts could be in all sorts of color combinations.
I have a friend, who shall remain nameless and she was very skeptical about my being able to pull this off, so I had to do it! She is super smart and an amazing knitter, so when we bicker about something I feel really good about myself when I can show her that I am actually right (this does not happen super often, so it is an accomplishment for me). Lucky for me she is the kind of friend who is happy for me when I succeed.
Next up- A detailed look at the
Foliage Hat
. I know I said that last time- ops.
Author: bluegirl - Date: 09 Oct 2011 20:40 - Tags: bluegirl knits designs
Visits: 1493 - No Comments