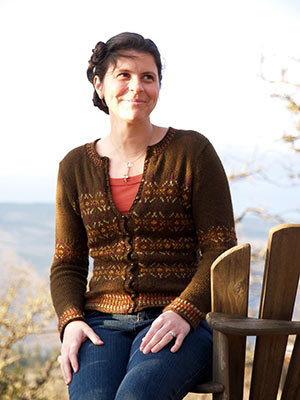 Pattern: Colorstyle, designed by Robin Melanson
Yarn: Blue Sky Alpacas Sport Weight- Lots of colors and some discontinued
Needles: US 4 (3.5 mm) & US 5 (3.75 mm)
This is not the first time this little cardigan has been on the blahg. This was one of my seriously
Languishing projects
.
I have a very important tip for this little number that could have made it easier and more fun. Do not start the colorwork chart where the pattern calls for, which is the side of the sweater. I recommend that you start it in the middle of the steek in the front. This will create a lot less sewing in of ends, hence the fun. The sweater pattern is written for both a cardigan and a pullover, so I think to keep the pattern more succinct the editors decided that they would start the color changes at the side, where you would need them if you were knitting a pullover.
I decided not to do the embroidery. I started it and did not like it at all in my yarn choice. The plies of the Blue Sky Alpaca just did not want to stay together and it made the little details look loose and sloppy. Also, once I finished the steek in the front and armholes, sewed in the sleeves and picked up for the neck and button bands, I really just wanted to be done. I would have persevered though if I thought it would look good, but thank goodness that Alpaca just wanted to untwist. Thank you Alpaca!
This was my first steek and I learned a ton from it. I took a steeking class from Chris Bylsma after having started this project and I would have changed the way I started if I had known what I learned in that class before starting. I used my sewing machine to secure the stitches and then the scissors to cut. I would have used Chris' crochet hook method and will do so when I conquer my next steeked project.
Here's one more shot for good measure.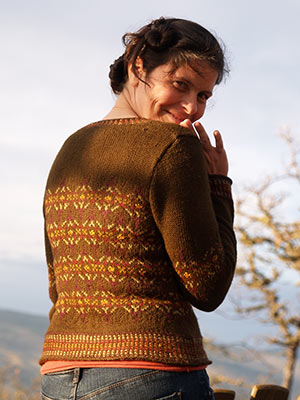 Author: bluegirl - Date: 01 Apr 2012 11:16 - Tags: recreational knitting
Visits: 1373 - Comments: 6