Green Mountain Spinnery
in Putney, Vermont. That yarn has been discontinued and replaced with
this
.
I grew up about 20 miles from Putney and my dad used to work there when was I was very little, so finding and knitting with this yarn in college was like being home. I started collecting skeins of
Mountain Mohair
, another Spinnery yarn that had become my favorite some time ago and recently realized that I had about 20 or so skeins. Some of the yarn came from Putney directly, when I went back for my 20 year high school reunion and visited the Spinnery.
Mountain Mohair is a delightful yarn that just makes me happy to knit. After searching and searching for a pattern worthy of this epic yarn, I landed on
this
. It was the perfect sweater and I had enough of the colors I needed to make it work!
Madeline and I decided to have a little play session outside and show off my Spinnery delight that I finished some months ago and look forward to wearing this fall and winter. I recently was in my LYS browsing around and ran into a friend who asked how Madeline was doing. She said she was worried, because she had not seen her in any of my blahg pictures. So, here she is! Madeline is great and turning 15 in less than a month. She is still full of personality and spunk and I am so grateful for every day we have her in our lives.


Here
are all the pattern details you need to know.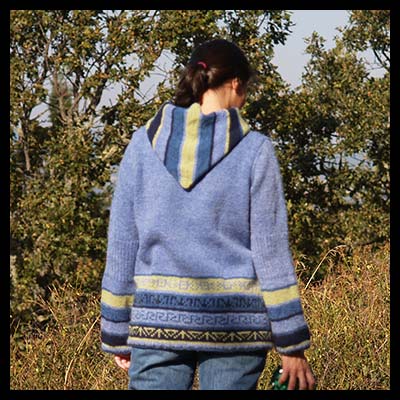 Author: bluegirl - Date: 14 Sep 2012 19:29 - Tags: recreational knitting
Visits: 524 - Comments: 3