Sarah
at
Knot Another Hat
, who now carries Rigid Heddle Looms! I am loving it and learning so much more about yarn. When you start weaving, you have to look at yarn in a whole new light and that is fun. It is challenging too!
Project 1Not so pretty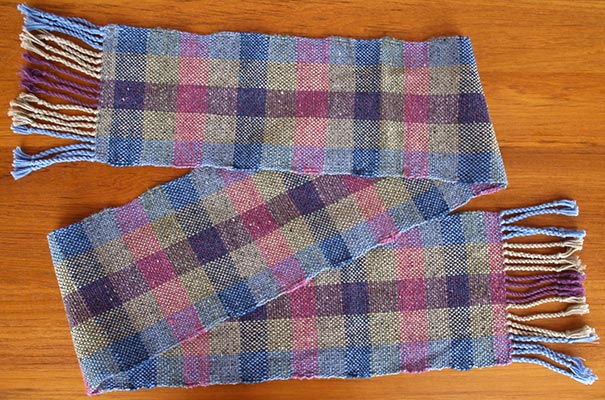 Ok, so I think the pattern in pretty and the colors are pretty, but look at those wonky edges. Bad, bad, bad. We all have to start at the beginning though and learning a new craft takes time. I wove this scarf on a 10 dent reed.
Project 2
Doing a little Better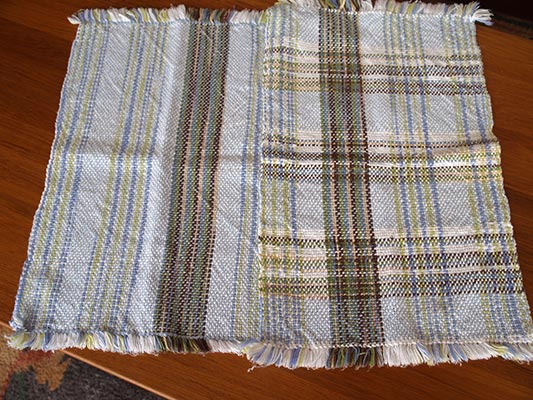 Next up I tried Tea Towels. I used cheapo kitchen cotton, just to play around with color and to try to improve on my edges, which I have to say look a little better. Mister, formerly know as Mancake, helped me with the plaiding sequence and I think it is rather nice. I wove these on an 8 dent reed.
Project 3
Are you noticing a difference?
What happened here you ask? Well a couple of things. My edges are looking darn good and why is that? I took a beginner weaving workshop that Knot Another Hat held with instructor, Linda Gettman. I also ran out of yarn (the green), so I had to add the blue and I love it. It is fun to wear! Linda had some great tips and I know my weaving really improved after this workshop. She is teaching again at the
Columbia Gorge Fiber Festival
, so if this intrigues you at all you should check it out. I am taking the class on pick-up stick lace patterns. I can't wait! 8 dent reed.
Project 4
Oh La La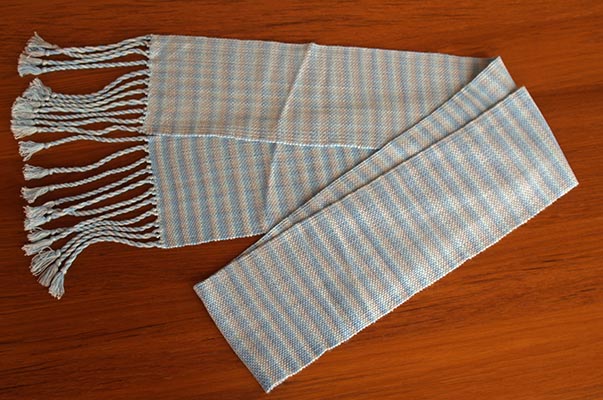 Sadly all of my pics show off these terrible creases where I folded my items, but worry not, they go away with a very light ironing, which I was too lazy to take the time to do before taking the pics. Oh well. This scarf is made from sugar cane and it turned out just perfect. I love how the yarn striped and I love the feel of it which is soft and silky. My edges look nice and my weaving looks even. Check me out! I used a 10 dent reed.
Project 5
Fuzzy Wuzzy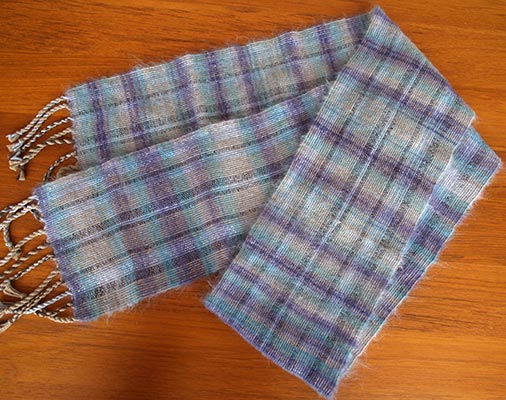 This scarf was just a joy to work up! I have different color and textured yarns on the warp (vertical yarns) and the weft (horizontal yarns) is a self-striping mohair silk blend. I have discovered the use for mohair and it is not knitting. Don't get me wrong I love the way it looks, I just hate knitting with it. Now that I have a loom, I am convinced that this yarn was created for weaving! It hides every little mistake and works up quickly, since it puffs up as you work with it. I used an 8 dent reed, but calculated the size on a 10, which made my scarf super wide, but I love it, so I guess it was not a mistake, right?
Project 6
Tea Towels Revisited with Nicer Yarn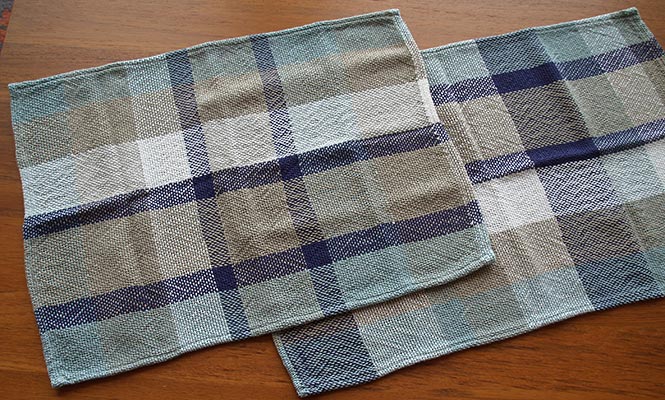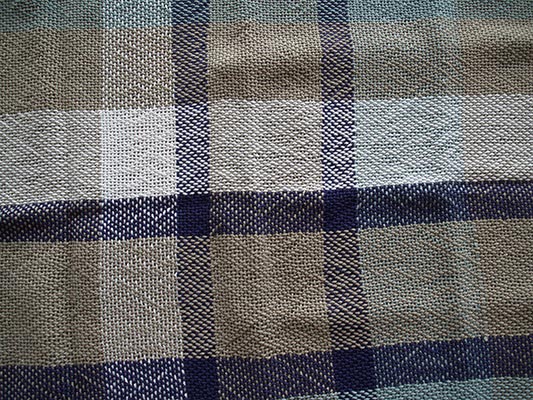 I like these tea towels and they certainly provided me with some lessons. I won't go into details on that, but let's just say I might like them better. I did secure my warp ends by sewing them on my machine and then folding and ironing on all sides and stitching all the way around the towels, which I really like. I am not a huge fan of fringe, so getting rid of it made me happier. I wove these on a 10 dent reed, but wish I had used my 12.
I have a new project on the loom, but have become distracted by something else, which I will have to share a little later. I also have been highly distracted by quilting! So much crafting, so little time...
Author: bluegirl - Date: 15 Mar 2014 12:48 - Tags: rigid heddle weaving
Visits: 11870 - Comments: 1